Welcome to Adelaide Pool Tilers
*** See our Reviews on Gumtree here ***
Planning to have your pool tiled? Well fear not – Adelaide Pool Tilers can certainly give you a great pool tiling job, while the quality remains second to none! With over 18 years combined experience in tiling pools and hundreds of pools having been tiled by us in Adelaide and other states, you can rest assured you're dealing with honest and professional pool tilers in Adelaide with real hands-on experience and knowledge.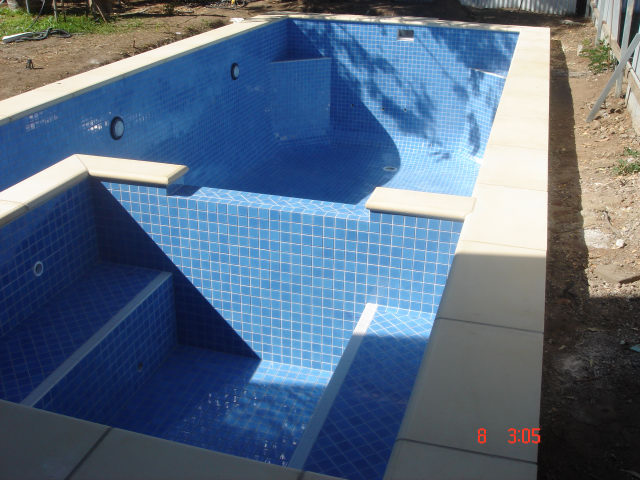 A fully tiled swimming pool is quite simply an original "hand-made" work of Art. There are no two pools the same with regard to the pool tiling. Having your concrete pool tiled is a fantastic option for people wanting a long lasting, easily maintained and beautiful looking pool. Fully tiled concrete pools are the smarter option, because at any stage, if they need repairing, they can be done cheaply without costing thousands – Unlike other interior finishes such as marblesheen, pebblecrete, and quartzon – these are expensive to install, repair – and don't have a long lifespan like pool tiles do.
While our pool tilers are very busy tiling pools for our own private clients, we also complete many tiling jobs for 7 of Adelaide's largest pool builders, such as: Freedom Pools, Alfa Pools, Mermaid Pools, Quantum Pools, South Pacific Pools, Elite Pools and Daydream Pools. They know and trust our quality of work – and therefore use our high standards to back-up their 5 year guarantee to their customers – Now that's quality workmanship Guaranteed – and peace of mind for you! You're most welcome to call them up to ask for a reference about us – Mention my name: Tony ;-)
Adelaide Pool tilers .com.au Specialize in:
• Swimming pool tiling - Includes Porcelain - Glass and Mosaic tiles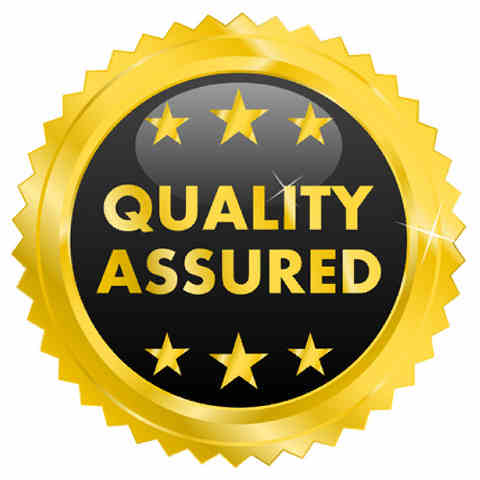 • Complete Pool Renovations of old pools
• Pool Coping
• Spa's
• Pool Repairs and rust removal
• Waterproofing
• QUALITY WORKMANSHIP GUARANTEE
• We also provide free quoting in all areas

Here at Adelaide Pool Tilers, were going to give you some tips on how to choose a swimming pool tiler for your pool. The key thing to look out for when hiring a tiler is how he presents himself while giving you a quote for tiling your pool.
• First of all, does he measures the pool to find the square meteridge of the pool? – If not, then he's just guesstimating, and this is likely to be in his favour.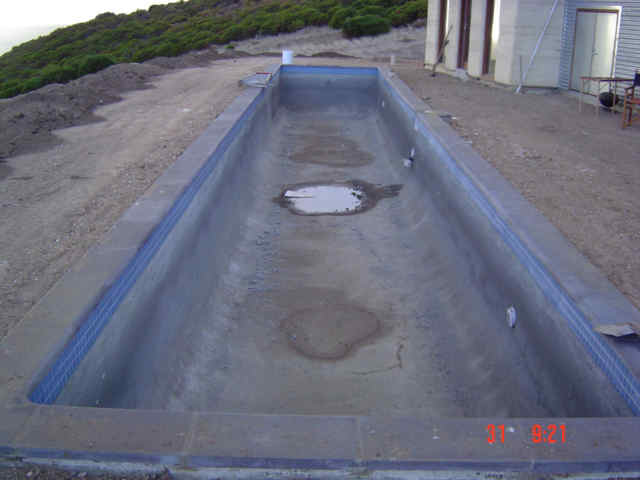 • Does he talk with confidence and with the use of simply terminology to help you understand what he's talking about? After all, you're spending a lot of money and you're entitled to know how it will be spent.
• Does he explain the procedure of tiling a swimming pool and what you can expect during the process.
• Can he authenticate his words with real testimonies from happy customers that he's worked for in the past? Rather than a few photos he may show you on his phone. There's a huge difference here – and this is what truly separates the genuine from the not so genuine.
What Adelaide Pool tilers will do for you
At any time we can provide you with as many references as you can handle – and ones that are in your area too. We can give you the names, phone numbers and addresses of clients of whom we've tiled pools for in the past. You can call them up and ask them if they were happy with the quality of our work. There's not too many pool tilers in Adelaide that can give you, or are willing to give you - this kind of piece-of-mind.
Good swimming pool tilers are hard to find in Adelaide – believe me when I say this! In the past, I plastered pool interiors with marblesheen, pebblecrete, and quartzon for 9 years before tiling pools full time. During these 9 years I seen a lot of tiling jobs numerous tilers done on the pools I rendered. They would come on the job before us, tile the steps and put tiles around the perimeters interior edge, just below the coping. My crew and I would then plaster coloured render on the remaining 90% of the pool.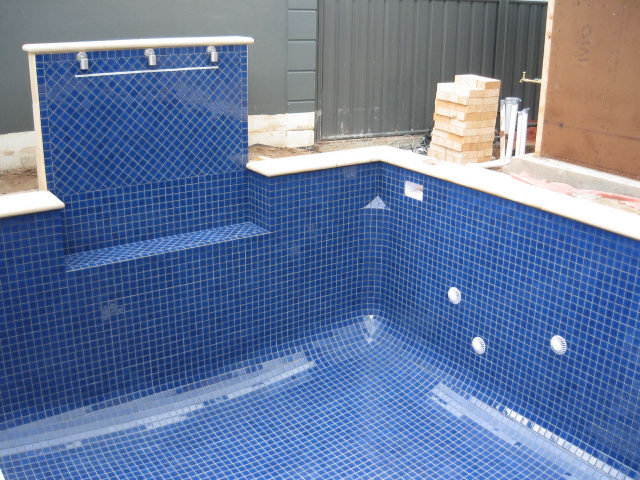 Honestly, I don't know how some of these "so-called" pool tilers can sleep at night - or how they manage to get paid and get away with it! It's truly outrageous the lack of quality they displayed in their workmanship. For many tilers in the pool game, it's a hit and run affair. Adelaide's not that big – and doing dodgy work won't get them too far! It's a hit and run affair for them because they know the average consumer has no idea the difference between a quality pool tiling job and a bad one – Except for those consumers who owned a quality tiled pool before, or those that have seen a great quality tiled pool.
This is the very reason why Adelaide Pool Tilers .com.au are willing to give you reference contacts so you can SEE what you're buying BEFORE you buy. We Guarantee a quality tiling job the first time, so you never have to call on us again to fix anything – Except maybe in 20 or 25 years when you want our sons to renovate your pool and tile it again ;-)
We promise you the highest quality pool tiling workmanship ever seen in the South Australian pool resurfacing profession - We don't just do this for employment - We consider it ART!
Are you having a new swimming pool built by a local pool Builder?
If you're in the market for having a new pool built, then it's definitely worth your time to ask the pool builder you'd like to see swimming pool tiling jobs the tiler has previously done. If you're not happy with his tiling quality, then you do have a choice in the tiler the pool builder uses – For example, you can call us at Adelaide Pool tilers .com.au ;-)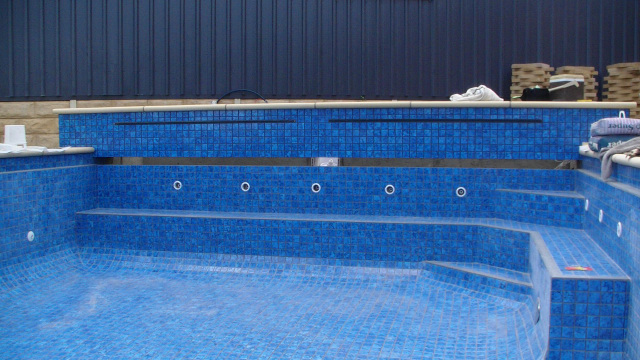 After all, pool tiling is the cosmetic step in creating your dream pool – It's the final element in your pools design, making it the product that you see every time you swim in your pool - Get it done right the first time by a quality pool tiler, so you can enjoy its relentless beauty for many years to come.
What swimming pool tiles are best used in your Pool?
There really is no right or wrong pool tile to use on the interior surface of your pool - it's entirely your choice. Having said that, all modern pool tile designs on the market will give your pool a refreshing look. The wide selection of tiles we offer, basically come in two sizes – The 45mm and the 58mm tile, and both are of the same good quality. And don't worry too much about the price either, as we can provide them to you at almost 15$ per/sqm cheaper than the tile shops will charge you. All of our tiles come with a lifetime guarantee – that means no colour or fading problems.
Tiling a pool can be a challenge at the best of times, and working with varying kinds of tiles for pools, adds to the level of difficulty.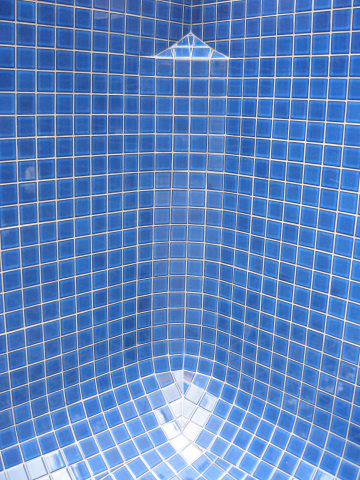 However, having had over 18 years' experience in tiling pools, Adelaide Pool Tilers have gained the intuitive knowing and ability to adapt to any kind of pool tiles you may choose.
We do hope you choose our combined knowledge and experience to make your dream pool a reality - Or perhaps give your old pool a new lease on life like you've never seen it before. No job is too big or too small. You'll find our prices are competitive, while the Quality remains second to none.
Please feel free to contact us with any queries you may have about your Pool. Adelaide Pool Tilers look forward to working with you ;-)
Call us today on --> 0402 031 736 - for a free Quote